BetFury Bonuses & Promotions
BTCGOSU readers seem to enjoy BetFury. We gave it a decent review, so we agree that there is a lot to like about this Gaming Curacao-approved platform. In fact, thanks to this recently attained license, we can finally name the company behind one of the finest crypto gambling sites on the internet – Universe B Games B.V.
Even though we accentuated this online casino's excellent game variety and mobile compatibility in our in-depth analysis, it also shines in terms of promotions offered. Thus, we are focusing on that here.
It advertises that it is the number one iGaming platform with daily payouts on the internet. However, where does it stand promotion-wise? Let us dive deep and find out. Read on to find out what BetFury Bitcoin casino has in store for you if you choose to become its loyal patron.
BetFury Jackpots
Now, a jackpot is the most substantial prize offered by a game. Since BetFury jackpots are looming here that anyone can hit, we have to start with those.
Five in-house titles or BetFury Originals have jackpot prizes. These are Dice, Plink, Crash, Circle, and HiLo.
To win the Dice Jackpot, you must have a winning streak of eight successful rolls where the lucky combination must share the identical first digits eight. For example – 50, 52, 55, 56, 51, 54, 59, 58. The size of your jackpot prize depends on your bet amount. That applies to all the BetFury Originals that feature a jackpot reward. You can see a breakdown of the percentage that you stand to win by clicking the question mark icon near the jackpot logo in each game.
In Plinko, every multiplier has its letter from word – Plinko. If you collect all the letters to spell out – Plinko, you win the corresponding Jackpot award. Note that the letters stay collected until you win this mega prize. In Crash, players race for collecting x20 000 of winning coefficients. Whoever reaches this sum first gets the main prize. The Circle jackpot gets won via a draw from all the players that made wagers on this game. To claim the HiLo super-prize, you have to hit a sequence of cards with a nominal of seven of any suit.
BetFury Battles
BetFury Battles are specific leader board challenges. Nothing more. You get to join whatever battle suits your fancy, and your standing gets determined via your bet activity during the specified time frame.
There are short battles that last a day and yield prizes of up to 0.1 BTC, medium ones that have a duration from one to three days, providing wins of up to 0.5 BTC, and long battles that can last up to seven days and produce a reward of 1 BTC.
Keep an eye on the BetFury Battles channel on Telegram for announcements regarding new challenges.

BetFury VIP Program
The BetFury loyalty program incorporates a ranking system, which you climb via your wagering activity. Eleven tiers exist in this Rank System, and each one carries a bonus, cashback percentage, and other benefits.
The ranks and needed bet activity to reach them are as follows:
Novice – 0 BTC
Gambler – 0.1 BTC
Miner – 1 BTC
High-roller – 4 BTC
Game Master – 20 BTC
Bet Hacker – 100 BTC
Elite – 300 BTC
Legend – 1,000 BTC
Satoshi – 2,000 BTC
VIP – 4,000 BTC
SuperVIP – 10,000 BTC
Exclusive promotions start from the Elite rank on, as does VIP support. You get a rank bonus for each level up and a specific cashback percentage for your rank. If you manage to attain SuperVIP status, you will earn a 1000 mBTC bonus for hitting this milestone and a cashback of 25%. All you have to do is keep playing to level up.
BetFury Boxes
Now, BetFury Boxes are this platform's free faucet. You can get a box with Satoshi in it every twenty minutes. All you will have to do is click withdraw and solve a captcha to claim some free funds. Remember, you can open a box every twenty minutes, which means you can do so seventy-two times per day. If the twenty-minute period elapses and you have not opened your box, it will still wait for you. Though, it will not continue filling once the stated limit passes. There is a max cap it can reach within that period that it cannot go over. BetFury decides this limit.
There are also Boost Boxes in play, which you can purchase via the BetFury Boxes page. In short, these let you attain a guaranteed investment. For example, if you buy a BUSD box for 1.0 BUSD (thirty days), you will get a return-on-investment of 15% or 1.15 BUSD. You can purchase a boost box that has a seven or thirty-day return-on-investment. The BetFury team guarantees all payouts after the allotted time passes. Given the limited supply of boost boxes available, if this scheme sounds alluring, navigate over to the dedicated page and look at the current offer.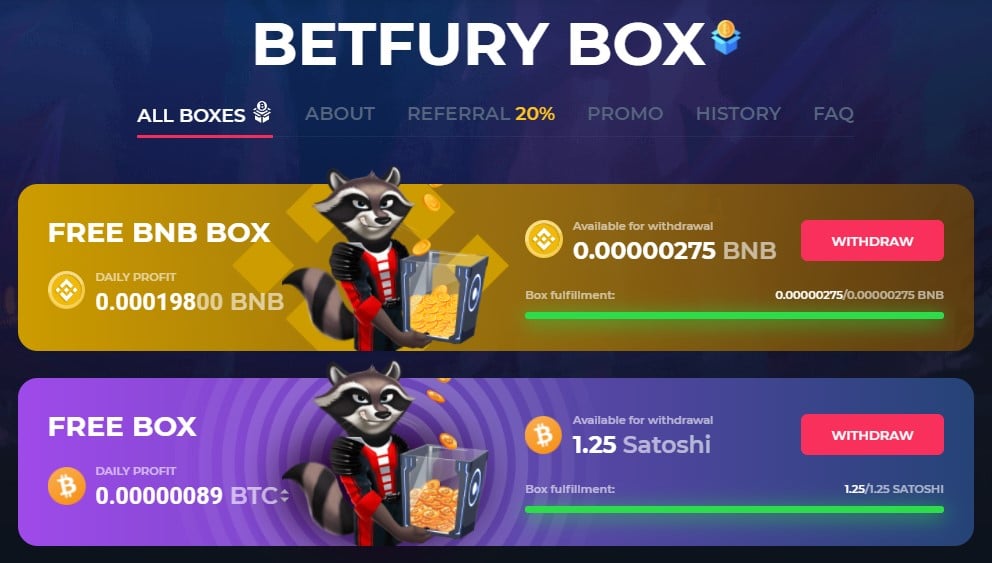 Daily Tasks
Daily tasks are what they sound like, exactly. You complete a challenge with pre-determined conditions to win a small prize. They also have their page on the platform, which you can check out. It lists all of the current tasks and their associated rewards. An example one would be – win thirty times at Dice within twenty-four hours to win 0.000002 BTC.
Referral Commissions
If you are looking to earn some passive income, BetFury's affiliate program can be a decent source of extra revenue if you have any marketing skills. The platform supplies you with advertising materials and a referral link which can get you 15% from the platform's house edge on all bets won by your referrals while playing in-house games. You also get 1.5% of the site's house edge on slots, and if your referrals mine 100 BFG tokens, you will receive 5% or 5 BFG. Referrals can also help you move up this crypto casino's ranking system.
You cannot use any misleading information to guide people over to this platform and self-invite using multiple accounts. Such behavior will cause a cancellation of all referral bonuses.
Go to BetFury nowGo to BetFury now
The post BetFury Bonuses & Promotions appeared first on BTCGOSU.